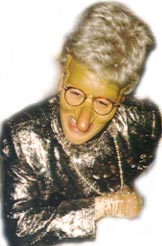 Edna
Edna Abu-Azim Malaka Silverfish Jones McFeces Nudd is a
Gregarious, seductive, geriatric grandmother. She's been everywhere, done everything, & been married to everyone. She has a purse full of knick-knacks and momentos that inspire stories: cell phone, photos, huge eye-dropper, and a mysterious battery-operated vibrating thing. Like a Gossip-column author, she's always in the middle of the action, thinks everything is fabulous, she's tacky and crass in a charming way. Acts like a bird at times.
Click here to enjoy Edna's Pocketbook Gallery!